What's Happening
Wondering what it means to be an adult charter school in DC? AoH and a number of our partners were featured in this Washington City Paper piece about the history, need and work of adult charters in the District.
***
AoH knows that access to affordable transportation is key to our learners' success, and we have advocated with the District over the last two years to expand transportation assistance to adult learners. During this year's city budget cycle, learners, volunteers, board members and staff used their voices to speak out about the issue and were able to convince DC's City Council to commit $1.98 million to provide transportation assistance to adult learners. Check out this  WTOP article and this WAMU piece which capture a few of the learners' powerful stories. Interested in joining our advocacy efforts? Please contact Jamie Fragale at jamie@aohdc.org.
***
AoH CEO, Lecester Johnson, recently penned two Op-Ed's. The first, published in penned an Op-Ed in the Washington Post's Answer Sheet, outlines how adult low literacy impacts so many other issues in DC and across the nation, including health, public safety, and incomes. The second, published in The Hill, discusses how building adult education programs can improve access to jobs and family-sustaining wages.
***
On November 4, we hosted an official opening event at our new Northeast site. We were honored to be joined by Councilmember Elissa Silverman, ANC Commissioner Walter Deleon, Scott Pearson (Executive Director of the DC Public Charter School Board), Jennie Niles (DC Deputy Mayor for Education), and many other distinguished guests.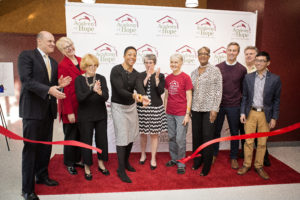 Immediately following the formal program, we partnered with Casey Trees to plant roughly 30 trees around the new building and surrounding community. More pictures can be seen on our Facebook page.