What's Happening
AoH CEO, Lecester Johnson, recently penned two Op-Ed's. The first, published in penned an Op-Ed in the Washington Post's Answer Sheet, outlines how adult low literacy impacts so many other issues in DC and across the nation, including health, public safety, and incomes. The second, published in The Hill, discusses how building adult education programs can improve access to jobs and family-sustaining wages.
***
On November 4, we hosted an official opening event at our new Northeast site. We were honored to be joined by Councilmember Elissa Silverman, ANC Commissioner Walter Deleon, Scott Pearson (Executive Director of the DC Public Charter School Board), Jennie Niles (DC Deputy Mayor for Education), and many other distinguished guests.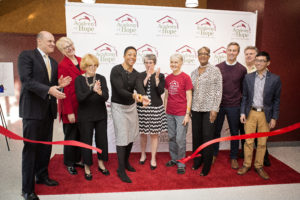 Immediately following the formal program, we partnered with Casey Trees to plant roughly 30 trees around the new building and surrounding community. More pictures can be seen on our Facebook page.

***
On September 24, 2016 AoH hosted our Annual Breakfast for Literacy: Persistence Matters, a celebration of literacy, education, and student success. The event featured a panel discussion with Lecester Johnson, CEO of Academy of Hope; Dr. Charlene Dukes, President of Prince George's Community College; Kim Ford, Deputy Assistant Secretary of the Office of Career Technical and Adult Education at U.S. Department of Education; and Dr. Edith Westfall, Acting Dean of Workforce Development & Lifelong Learning at the University of the District of Columbia Community College. The conversation was moderated by Judy Woodruff, Co-Anchor and Managing Editor, PBS NewsHour.
***
On June 4th, 2016, family, friends and the whole AoH community gathered to celebrate the Class of 2016 graduates—a truly impressive, committed and accomplished group. Take Amy, a graduate speaker and an exemplary student in her attention to detail, punctuality, inquisitive nature and respect for all those in the learning community. After emigrating from Sierra Leone in 2011, Amy made it her mission to earn her high school credentials. With this degree now in hand, she plans to attend college and study office management. Then there's Edmond, a talented and highly acclaimed sculptor, who finished the year with both his High School Diploma and a certificate in Nonprofit Management. And finally, there's Melvin, an evening student with impaired vision, who was determined to earn his High School Diploma before his son finished his degree at Duke Medical School. Sure enough, Melvin's son watched his father cross the stage as his first year came to an end.
For the first time, all of the graduates crossed the stage with a State High School Diploma in hand—something made possible by the advocacy efforts of AoH learners, staff and partners. Tierra Jolly, Ward 8 representative to the DC State Board of Education, was an adamant support of the effort to create a State Diploma and served as the keynote speaker at graduation.
***
Learners often note that they are coming back to school so they can set a good example and help their children or grandchildren with their homework. But being a parent in school presents a number of challenges, especially for those who are also juggling work and other demands. This article in The Atlantic details the benefits kids see when their parents return to school and shines a light on the tough road to an education that so many adult learners face.