What's Happening
AoH knows that access to affordable transportation is key to our learners' success, and we have advocated with the District over the last two years to expand transportation assistance to adult learners. As this year's city budget season gets underway, AoH is raising visibility and support for this issue. On April 12, two learners testified before the DC Council Committee on Finance and Revenue about the issue. Check out this  WTOP article which captures their powerful stories. Interested in joining our advocacy efforts? Please contact Jamie Fragale at jamie@aohdc.org.
***
AoH CEO, Lecester Johnson, recently penned two Op-Ed's. The first, published in penned an Op-Ed in the Washington Post's Answer Sheet, outlines how adult low literacy impacts so many other issues in DC and across the nation, including health, public safety, and incomes. The second, published in The Hill, discusses how building adult education programs can improve access to jobs and family-sustaining wages.
***
On November 4, we hosted an official opening event at our new Northeast site. We were honored to be joined by Councilmember Elissa Silverman, ANC Commissioner Walter Deleon, Scott Pearson (Executive Director of the DC Public Charter School Board), Jennie Niles (DC Deputy Mayor for Education), and many other distinguished guests.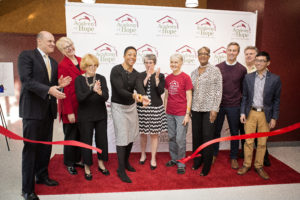 Immediately following the formal program, we partnered with Casey Trees to plant roughly 30 trees around the new building and surrounding community. More pictures can be seen on our Facebook page.

***
On September 24, 2016 AoH hosted our Annual Breakfast for Literacy: Persistence Matters, a celebration of literacy, education, and student success. The event featured a panel discussion with Lecester Johnson, CEO of Academy of Hope; Dr. Charlene Dukes, President of Prince George's Community College; Kim Ford, Deputy Assistant Secretary of the Office of Career Technical and Adult Education at U.S. Department of Education; and Dr. Edith Westfall, Acting Dean of Workforce Development & Lifelong Learning at the University of the District of Columbia Community College. The conversation was moderated by Judy Woodruff, Co-Anchor and Managing Editor, PBS NewsHour.