Graduates
Academy of Hope impacts the lives of over 500 adult learners a year. Since 1985, we have helped over 600 adult learners obtain their high school credential and 6,000 more improve their basic reading, writing, math and computer skills. We empower our students with a quality education so that they have the tools and skills they need for the road ahead.  We foster a common sense of understanding that they must always commit to challenging their own status quo and become life-long learners.
Meet some of our Alumni
April 2016 Graduate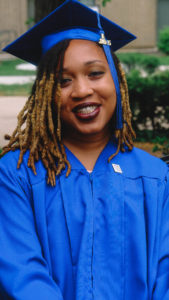 April was born in 1989 in Maryland, where her father worked for the Air Force and her mother struggled with severe mental illness. "It was very difficult".  But with counseling and writing, things got better.
Then, in her junior year she reconnected with an old boyfriend and in 2008, she gave birth to her daughter. Neither she nor her boyfriend had completed high school.  They worked alternate shifts to cover childcare, rented an apartment with a roommate to help cover costs, and had their son in 2010.
Over the next several years April broke up with her boyfriend, endured a string of evictions, and ended up in DC General Homeless Shelter with her two babies, pregnant with her third. 
Recognizing the need to for more education to get a decent job, in 2014, she enrolled in AoH.  She struggled to take care of the kids and attend classes, and finally had to drop out of school.  But as soon as her housing situation stabilized, April returned to AoH.  "I really started studying, letting go of the bitterness, anger, and depression that had kept me from getting where I wanted to be.  I learned time management, setting goals, and talking to my inner critic.  Passing the GED was a really big deal!
April has now completed an accelerated Certified Nursing Assistant program and is enrolled in a two-year Associate's program in respiratory therapy at UDC.  "It's been a long road – I'm still not there, but I'll make it.  Most important is to be a good role model to my babies."
Melvin, 2016 Graduate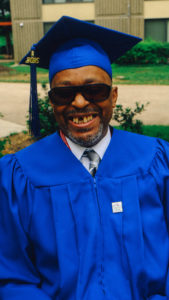 Melvin was born in 1965 in Washington, DC.  In 1969 his father accidentally shot and killed his mother, leaving Melvin with his abusive grandmother.  Both his home and school lives were characterized by violence.  By 14 he had a serious drinking problem, was expelled, and labeled "emotionally disturbed".
But life brightened at the Leary School in Alexandria, where Melvin was named  "student of the year", and later at the Burdick Career Center, where he studied culinary arts.
However, as home life became untenable, he dropped out, worked at Popeye's, and moved to Maryland with his girlfriend, who became his wife. Then, in 1981, he learned that he had glaucoma and would be blind by age 40.  Nonetheless, Melvin worked in maintenance for over 20 years, losing his sight completely at 38.
Melvin is devoted to his son, whose academic success spurred Melvin to get his GED.  After trying several other programs, he found AoH in 2014.  The first semester was discouraging, but once AoH provided a computer with a voice synthesizer and screen reader, he excelled.  Melvin "blew through algebra", won awards for perfect attendance, and was selected to speak at graduation in June 2016. 
Having overcome addictions to alcohol and drugs, Melvin wants to become an addiction counselor.  As for his son – who has overcome many obstacles of his own – he is now in medical school at Duke University.   Filled with fatherly pride, Melvin says:  "He is the part of this story that means even more than my diploma."
Amy, 2016 Graduate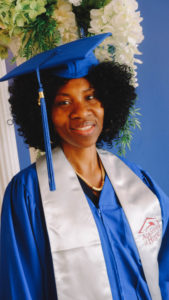 Born in 1976 in Sierra Leone, West Africa, Amy was abandoned by her mother, rejected by her father's wife, raised by her grandparents, and eventually left to her own resourcefulness to survive.
"I loved school and the teachers said I was brilliant."  However, following a rape and pregnancy at age 12 and financial difficulties, it was very hard to stay in school.  After years of effort, Amy made her way to teacher training college.  But she contracted TB and, during her country's civil war, endured more rapes and torture.  Remarkably, she came through it all, obtained a higher-level teaching certificate, and went to work with war-affected children.
Amy went on to university and to work in the US Embassy in Freetown, SL as a cultural affairs assistant.  Selected for an assignment in Iraq, she came to Washington for training.  However, she had a stroke, which led to a long recuperation and the loss of her job.  Yet she again marshaled her amazing strength to regain her health and, later, to achieve political asylum in the US.  "At that minute, I wanted to go back to school!" 
Amy entered Academy of Hope in 2015 and completed the National External Diploma Program in six months.  AoH helped her apply to UDC Community College, where she is now in the second semester of a program in Early Childhood Education.  Her goals are to work in education management and then go on to pursue studies at the doctoral level, and to help young girls in need.