Graduates
Academy of Hope impacts the lives of over 500 adult learners a year. Since 1985, we have helped over 700 adult learners obtain their high school credential and 7,000 more improve their basic reading, writing, math and computer skills. We empower our students with a quality education so that they have the tools and skills they need for the road ahead.  We foster a common sense of understanding that they must always commit to challenging their own status quo and become life-long learners.
Meet some of our Alumni
Carlos, 2017 Graduate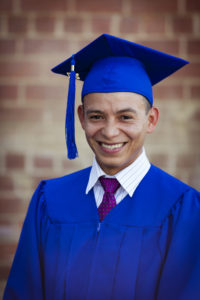 Lorenzo Carlos never believed he would study beyond the sixth grade in his native Honduras.  But through his love of learning, a lot of hard work, and his generous spirit, Carlos (as he is known to his friends) thrived at Academy of Hope, where he learned to love math, gained self-confidence, and obtained his high school diploma.
Growing up in Honduras
Carlos was born in Honduras, Central America in 1984, the youngest of 14 children.  His father farmed rice and beans while his mother looked after the household and raised the children.  Despite the lack of electricity and other basic conveniences, Carlos says that his childhood was "awesome".  Speaking of his parents, he says:  "They were the best, they gave me the best they could."  He loved going to school and never missed a day.  Unfortunately, there was no money for him to continue beyond 6th grade, so he went to work in the fields with his father at the age of 12.
His dream was to come to the US in order to make enough money to help his parents:  "If I could change my Mom's life, it wouldn't matter how hard I'd have to work, they were the center of everything."  When his older brothers refused to give him the money to travel, he "became a rebel" and went to work in a factory in San Pedro.  But when they realized that Carlos was sending money back home to his mother, they got behind him and agreed to help him get to the US.
Coming to the US – new work, new language, a new life
So in 2003, at the age of 19, Carlos made the difficult journey on foot and by bus through Guatemala and Mexico.  Once across the border, he says that he was not afraid, even though he spoke no English and had no money.  He endured hours of official interviews, used his wits, and overcame "challenge after challenge".   Against the odds, and with assistance from a local police officer, he eventually made his way from Texas to Kansas City, Kansas, where his sister took him in.   He stayed in Kansas City for six years, where he worked two jobs as a cleaner and focused on learning English through friends and the television.
Then in 2009 Carlos met John, who was working at Fort Leavenworth with a US Army contractor, and that same year they relocated from Kansas City to Washington, DC.  But for the next three years, John traveled frequently to Iraq and Afghanistan for his job, while Carlos once again worked at cleaning houses, gardening, and walking dogs. Carlos and John were married in 2012.  Unfortunately, in 2010 Carlos' mother became gravely ill, so he returned to Honduras to be with her for three months.  Although it was dangerous for him to leave and return again to the US, he felt it was a risk worth taking to be able to spend time with his mother during her illness.  Sadly, in 2013 she died.
Getting back to his education – and Academy of Hope
In 2013, when Carlos' cleaning business had slowed down, John suggested it was time for Carlos to go back to school.  So, despite his lack of self-confidence, Carlos joined a church for ESL classes for one year.  And it was there that he was encouraged to study for his GED – something he'd never even considered.  On John's suggestion and with his encouragement, Carlos found Academy of Hope.
Arriving at AoH in the autumn of 2014, Carlos was nervous and worried about being accepted.  But he says:  "Everyone was welcoming, it was as if they knew me for years.  I knew it was the right place for me as soon as I started talking to everyone."  Still, he recalls:  "As an immigrant, I had to start from the basics and step up my game.  I found everything advanced and was afraid I couldn't do it.  Nothing was easy."  He had difficulty speaking in class and holding conversations, and found math class especially challenging.  And yet, despite these initial hurdles, he ended up mastering both public and conversational speech and math!
"The teachers helped me with everything and told me that no one was judging me here, and reminded me that everyone is trying to achieve the same goal.  All of my teachers were awesome!"   But he particularly appreciated the most disciplined and structured teachers, and loved having to be prepared for class.  And in addition to his class work, Carlos augmented his learning through YouTube tutorials on fractions and chemical compounds, and used a Kaplan study book to practice reading comprehension.  In addition, Carlos often came to class with delicious home-cooked food, demonstrating time and again his talent for cooking, his generous spirit, and his sensitivity to his classmates (e.g., by keeping the jalepeño peppers on the side of the salsa so that it wouldn't be too spicy!).  He says that: "Sometimes we forget how lucky we are, so it feels good to share what I have."
After three years of night classes – which was a "perfect balance" with his house cleaning and homework – Carlos was encouraged both by his husband and his teachers to start taking the GED pretests and, later, the exams.  Although he had a bit of a rocky road with two of the subjects, he passed them all in early 2017.  Still, he so enjoyed being a part of AoH that he continued coming to classes for three more months, finally graduating in June 2017.  His husband, his mother-in-law (who came from Kentucky) and his sister-in-law (who came from Ohio), along with a close friend, were all there to celebrate this important milestone in his life.  Of graduation, he says:  "It was pure joy!"  He later hosted a big graduation party at his house!
The next chapter
Since graduation, Carlos has been "soaking in the happiness" and thinking of going on to study either culinary arts or accounting.  He is no longer afraid to talk to people or to write.  He knows that everyone makes mistakes and that we learn from them.  And he reflects on the fact that he misses his backpack and school supplies, as he has always been a person who loves to go to school.  His parents would be proud.
Mary, 2017 Graduate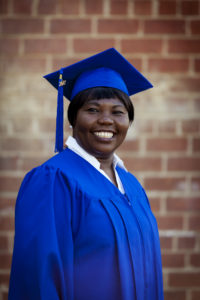 Mary Zrara's life has been buffeted by war, poverty, and displacement. But her strong spirit and enormous heart have helped her to survive the brutal conflict in her native South Sudan and to create a new life in the US. Today she is driven by love for her husband and daughter and an urge to help those in need. Now with her NEDP in hand, she is pursuing further education and runs a non-profit organization to feed children and the elderly in her home country. Her fortitude and her dreams are boundless.
Living "Growing up in the midst of conflict
Born in 1972, at the end of the 22-year long First Sudanese Civil War, Mary and her eight siblings lost their father when Mary was just a year old. Without his salary (he was head of nursing in the local hospital), the family left their home in Juba and moved to the "bush" to farm. Although the closest school was a two-hour walk away, back in Juba, Mary's older sister Eve registered the two of them for class. "We didn't have clothes, and could only buy a school uniform after selling our mother's corn, okra, and peanuts in the market." She caught mice to eat and at times went days without food. When Eve became pregnant and dropped out of school after 6 th grade, she and Mary moved back to the family home in Juba and survived by selling boiled corn, tea and homemade beer. Looking back, she says: "Life was hard, but I thank God that I didn't get pregnant or drop out. I liked my school friends and I just loved school." While most kids her age had quit by middle school, Mary "just kept going", until she was 19 years old.
Fleeing war and persecution
By then the Second Sudanese Civil War was in full swing. It went on for another 22 years and has been followed by tribal violence ever since. When the war came to Juba, Mary, Eve and the baby fled to the Khartoum in the north. There Mary eventually managed to return to her education at a government-run "refugee school"; she finished high school in three years. "But life there got worse. We tried our same business, but it was dangerous because the government sent the police." In addition, strict religious rules were imposed, which were especially hard for Christian southerners like Mary and her family. So, with savings from her small business, in 1996 Mary bought a cheap plane ticket to Syria. There she worked as a housekeeper and lived with a Christian- Syrian family who provided her with food, clothing, and a place to sleep.
Some light at the end of the tunnel
While living in Damascus, Mary registered with the UN and finally received refugee status. There she reconnected with an old friend from South Sudan, who was also on his own. Her friend, Kosta, was also doing housework and the two of them met on Sundays. "We went to church. It was the best day of the week, everyone came to church!" After a year, she says: "Thank God, we got married!" They rented an apartment in the refugee camp, got new cleaning jobs, made enough to pay the rent, and had a baby daughter. However, they feared being deported back to Sudan. Although they lived quietly to avoid trouble, in 2004 the government arrested Kosta and held him for two days, releasing him only because he had a wife and child. That same year, after eight years of waiting, they were granted asylum in the U.S
Life in the United States
On September 29, 2004, Mary and her family joined her younger sister and her husband in Cleveland, Tennessee. But they were not happy, as they found few opportunities for school and work. Luckily, though, on her way to the US, Mary had met an American woman who had offered to help her out if needed. Mary called the woman and asked to come visit in Washington, DC. She and her family came for six weeks and never left. Mary quickly found a job as a hotel housekeeper, Kosta got work as a contractor washing cars, and their daughter entered Head Start. In 2008 Kosta got a job a part-time hotel bellman and later became a full-time bellman in a different hotel. By 2010 Mary had become a supervisor, began taking computer classes at Career Technology Institute and later, through Jubilee Jobs, got a position cleaning at the Calvary Women's Services shelter. Realizing that she would need to go to school if she wanted to move up, she registered at Academy of Hope in 2013.
Academy of Hope and Far Beyond
From the first, Mary says that everyone at AoH was welcoming and encouraging, despite the fact that her English was "not so good". After a year of working part time and attending day classes, her husband took a second job so she could focus on school. She appreciated the fact that her teachers made her write, explained things until she understood them, and got her a tutor to improve her math skills. They also asked about her dreams. With this guidance and her own hard work, Mary obtained her high school diploma on March 1, 2017. And now, with ongoing support and encouragement from her husband Kosta and her daughter Claudia, she will begin her studies at UDCCC on May 15, 2017. There she will study business technology to help her manage a non-profit organization in South Sudan that she has set up "to help people who have no one to help them. I know how they feel." It is called "Eve's Road", in memory of her sister, who passed away. Mary says the organization came about because "AoH guided me to dream and opened my mind". It is funded by her earnings (she has a permanent part-time job at Calvary) and by her husband's tips. In Juba the center is run by her sister-in- law and, at a distance, Mary keeps close watch over the operations by phone. Her next goal is to build a center to respond not only to people's need for food, but also to their need for spiritual support. Beyond that, the sky is the limit for this remarkable woman.
Mui, 2017 Graduate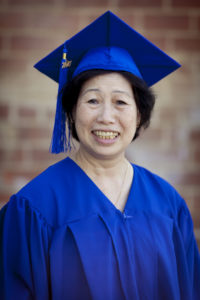 The life story of 59 year-old Mui Derr includes the loss of her home, separation from her family, and years of hunger, sickness, and fear.  Throughout, Mui has shown courage, resourcefulness, and resilience.  She has also demonstrated perseverance, generosity, and hard work.  Having completed her NEDP in September 2016, today Mui is happy and proud of what she has accomplished, and continues to move forward with a ready smile and hope for the future.
Early Years in Viet Nam
Mui was born in 1957 outside a small town in South Viet Nam, the first of eight children.  Her Chinese father and Vietnamese mother owned a home and two clothing businesses.  Although her family was Buddhist, she was educated in a Catholic girls school.  She says:  "I loved learning and was especially interested in geography".  She also loved the nuns who taught her, and wanted to become a nun herself.  But as the family's first daughter, she had to care for the younger children.  So with great sadness, she left school in 1972 at the age of 15.
In 1975 the North defeated the South, and Mui's life changed dramatically.  The family lost their home and their businesses, and was sent to work in the mountains.  As her father was Chinese, they received one-half the normal allocation, which left them constantly hungry.  And as their IDs had been confiscated, they could not get medical care or travel.  Things were so bad at one point that Mui's father obtained enough rat poison to kill the entire family, but his wife persuaded him that they must try to survive.  For five more years they endured hunger and sickness.  Mui contracted pneumonia, which stayed with her for years.
In 1980 they were allowed to return to their hometown.  But without IDs, a home, or even a license to sell goods, they continued to struggle.  At first they slept in the market, later they squatted in their old house.  During this period they survived only with help from neighbors and their father's former business associates.
Struggle to Move On
Finally in 1988, as part of the official census, the family obtained IDs, and Mui's father helped her and her sister to leave Viet Nam.  With a bit of gold that he had sewn into the hem of his shirt, he paid smugglers to get his daughters to the North, and then to China.  But the journey was dangerous and the sisters, along with two of their nieces, were separated in China.  The nieces were sold into servitude, but Mui escaped by refusing to be mistreated.   For two years she stayed with a half-brother in China, but after the 1989 protests in Tiananmen Square, she was arrested for not having Chinese papers.  Finally she and her sister made it to Hong Kong, traveling on separate boats so that at least one of them would survive.  There, Mui lived in a refugee camp for five years, working for Caritas and teaching knitting.
In 1994 the Hong Kong government declared that Mui and other refugees had to return to Viet Nam.  In response she joined a group called "Freedom or Die" and went on a hunger strike.  As she was finally receiving treatment for her pneumonia ,her doctor advised her not to participate.  But she was so desperate to avoid return to Viet Nam that she stopped eating for seven days, and ended up in the hospital.  She eventually returned to the campaign, but ended her hunger strike.  Finally in 1995 Mui was able to leave Hong Kong for the US.  The International Organization for Migration gave her a plane ticket (which she repaid at $50 a month for two years).  After stops in Japan and Los Angeles, she finally arrived in Washington, DC.
A New Life in the US – and Academy of Hope
Once in the US, Mui took a job as a housekeeper at The Courtyard Marriott Hotel.  After just one year she had saved $7,000, which she sent back to her family in Viet Nam to build a house.  The following year she sent $5,000 to close friends to help them replace their broken-down bus, which allowed them to continue making a living.  She also made an effort to learn English, and through her sister, in 1999 she met a man who helped teach her.  One year later she married him in Las Vegas, in Viet Nam and in DC!
Unfortunately, after working steadily for 12 years, in 2007 Mui lost her job. Having seen signs at the unemployment office for GED and NEDP programs, she realized that she might find a better job if she could get a high school credential.  Mui started her studies at Academy of Hope in 2008.  To her husband, she says:  "I always say thank you, for finding the program for me and for encouraging me to go."
About her time at Academy of Hope, she says:  "I loved it!  If there was something I didn't know, everyone can help me."  She especially appreciated the kindness and the support she got from the AoH teachers, and from her tutor, who taught her written English and grammar, and who tailored support to Mui's practical needs (e.g., teaching her about credit card liability and common health problems).
In 2009 Mui took a job as a cleaner at Georgetown University.  Working from 5pm – 10pm seven days a week, she attended class during the day.  When in 2013 she switched to the 6:00am – 2:30pm shift five days a week, she continued her NEDP course online and through weekly meetings with her tutor.  She also got help on breaks from many Georgetown students, who showed her how to use her new lightweight computer.  She learned much from them, including how to create bar graphs and pie charts, and she is proud to have taught these skills to her tutor!
Having graduated in September 2016, Mui says that: "I'd love to go back to school – maybe in nursing".  Later she thinks she would also like to volunteer to care for the elderly.  "I don't want to stop, I want to keep learning!"
April, 2016 Graduate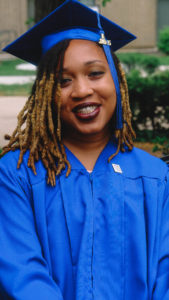 April was born in 1989 in Maryland, where her father worked for the Air Force and her mother struggled with severe mental illness. "It was very difficult".  But with counseling and writing, things got better.
Then, in her junior year she reconnected with an old boyfriend and in 2008, she gave birth to her daughter. Neither she nor her boyfriend had completed high school.  They worked alternate shifts to cover childcare, rented an apartment with a roommate to help cover costs, and had their son in 2010.
Over the next several years April broke up with her boyfriend, endured a string of evictions, and ended up in DC General Homeless Shelter with her two babies, pregnant with her third. 
Recognizing the need to for more education to get a decent job, in 2014, she enrolled in AoH.  She struggled to take care of the kids and attend classes, and finally had to drop out of school.  But as soon as her housing situation stabilized, April returned to AoH.  "I really started studying, letting go of the bitterness, anger, and depression that had kept me from getting where I wanted to be.  I learned time management, setting goals, and talking to my inner critic.  Passing the GED was a really big deal!
April has now completed an accelerated Certified Nursing Assistant program and is enrolled in a two-year Associate's program in respiratory therapy at UDC.  "It's been a long road – I'm still not there, but I'll make it.  Most important is to be a good role model to my babies."
Melvin, 2016 Graduate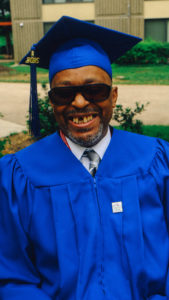 Melvin was born in 1965 in Washington, DC.  In 1969 his father accidentally shot and killed his mother, leaving Melvin with his abusive grandmother.  Both his home and school lives were characterized by violence.  By 14 he had a serious drinking problem, was expelled, and labeled "emotionally disturbed".
But life brightened at the Leary School in Alexandria, where Melvin was named  "student of the year", and later at the Burdick Career Center, where he studied culinary arts.
However, as home life became untenable, he dropped out, worked at Popeye's, and moved to Maryland with his girlfriend, who became his wife. Then, in 1981, he learned that he had glaucoma and would be blind by age 40.  Nonetheless, Melvin worked in maintenance for over 20 years, losing his sight completely at 38.
Melvin is devoted to his son, whose academic success spurred Melvin to get his GED.  After trying several other programs, he found AoH in 2014.  The first semester was discouraging, but once AoH provided a computer with a voice synthesizer and screen reader, he excelled.  Melvin "blew through algebra", won awards for perfect attendance, and was selected to speak at graduation in June 2016. 
Having overcome addictions to alcohol and drugs, Melvin wants to become an addiction counselor.  As for his son – who has overcome many obstacles of his own – he is now in medical school at Duke University.   Filled with fatherly pride, Melvin says:  "He is the part of this story that means even more than my diploma."
 ***
AoH would like to extend a special thank you to Jan Leno for volunteering her time and skills toward interviewing and writing each graduate's profile.